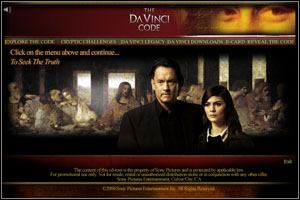 This is the Davinci Code mini cd that was free with purchase of the DVD at best buy and circuit city as a promotion.
I put this together and made everything work, but the art and design was provided to me by the client.
This is a rather old portfolio piece of mine, there was an NDA on this that prevented me from showing this work for one year, which has long since passed, so I kind of forgot to put this in the portfolio. It's here now though!
[embedyt] https://www.youtube.com/watch?v=4bZ7_vQOqoA[/embedyt]
( sorry, no sound in this video )
For more information, please refer to the following posts:
DaVinci Code mini-cd review [ Video ]